Dignity Lifts - Deluxe Toilet Lift - DL1 - In Stock, Ships Now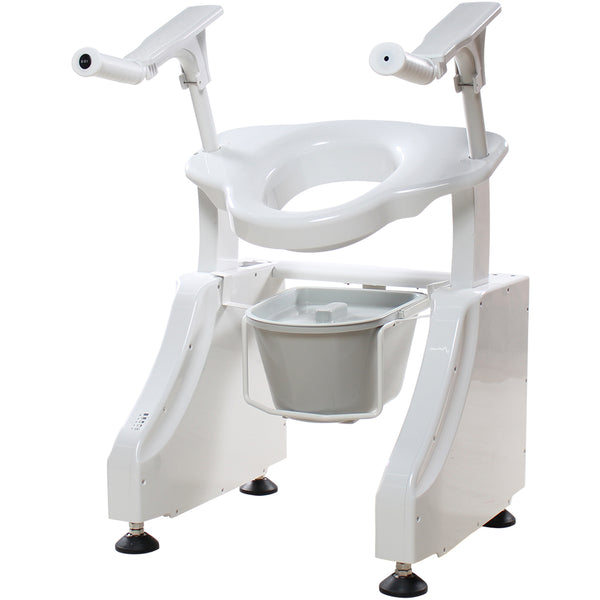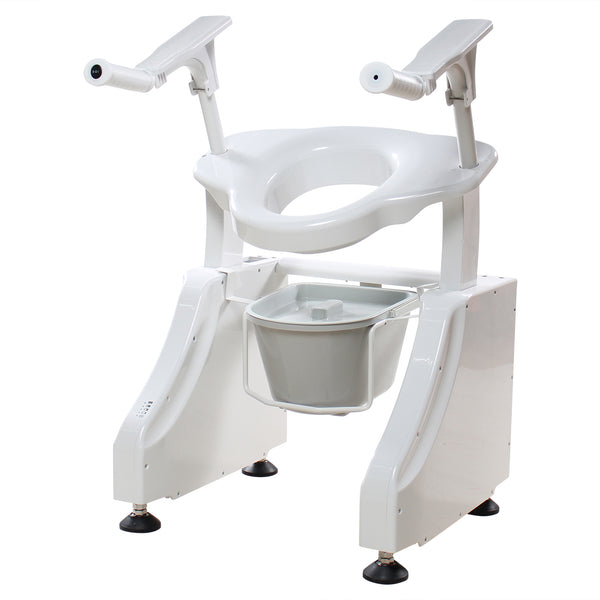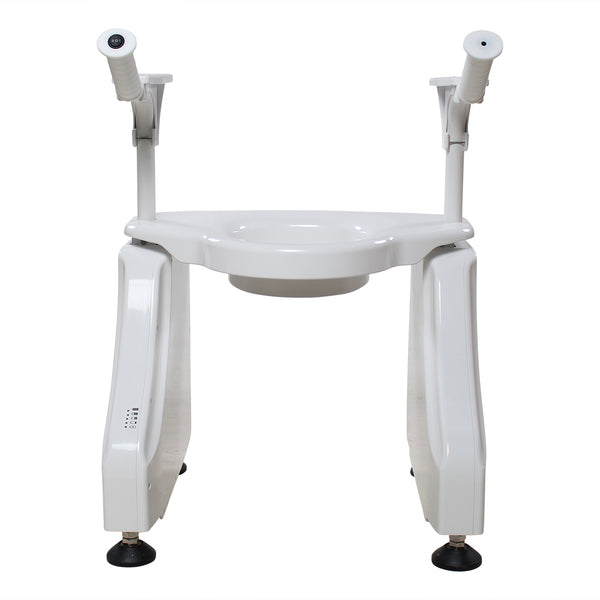 Maintain your independence and dignity with a toilet lift from Dignity Lifts. The DL1 Deluxe Toilet Lift is our best-selling toilet lift. It prevents falls and keeps you from getting stuck on the toilet. At the push of a button it lifts you up or sets you down gently on your toilet. The DL1 Deluxe Toilet Lift looks sleek so it won't ruin the look of your bathroom and its easier to clean than other lifts. Whether you live in a house or an independent living apartment, a toilet lift is a great way to avoid needing to move to the next level of care.

Features Include:
Sleek, attractive style
Easy to use and clean
Provides a full 14" of lift - The most lift of any of our lifts.

4 wide feet make it sturdy and stable
Works with almost all toilet shapes and heights (see more here).

Is less than 24" wide to fit in almost all bathrooms (more information here).
Rechargeable battery allows you to use it in bathrooms that don't have an electrical outlet near the toilet.

Rechargeable battery allows it to work even during an power outage.
Plug In Capability as well, so you can choose how to use your lift.
300 lb. lifting capacity
Dignity Lifts help you get down to and up from the toilet easily. They give you a slow and steady lift back to the upright position. Dignity lifts allow you stand up for yourself and to continue using the bathroom without the need for a helper. We call them dignity lifts because they allow you to keep your dignity. 
No one wants to get stuck on the toilet, and a dignity lifts prevent that. They lift you at a reasonable pace, so even if your legs "fall asleep" on the toilet you'll still be safe. Our lifts take 20 seconds to raise you all the way up from the toilet. This is the right amount of time so you can get circulation and feeling back in your legs. 

The Dignity Lifts DL1 works with almost all toilets from the shortest to the tallest, the Dignity Lifts DL1 works with almost every toilet. It fits bowl heights of 14 inches (early toilets are this low) all the way up to 18 inch bowl heights (tall toilets are this tall). It has adjustable/removable legs to fit any toilet we have ever seen. The DL1 has an easy to clean seat that includes a "chute" design. This design ensures that all fluids and solids end up in the toilet bowl. The chute is sized to fit into standard toilets and it easily fits into elongated bowl toilets as well.

The Dignity Lifts DL1 helps prevent constipation. Raised toilet seats or extra tall toilets can cause constipation. Toilet lifts get you lower so your body evacuates better. Not only will the lift raise you up, but you get the benefits of a low seat height too. This helps you avoid constipation and numbness of your limbs.

The Dignity Lift DL1 fits in almost all bathrooms It has a width of 23 7/8" so it will fit in the toilet nook of even the smallest bathrooms. Most building codes require at least a 24" wide toilet nook. Our lift is designed for that. (See this page for more info)

The Dignity Lift DL1 is an economical alternative to Assisted Living The average cost of a private room in assisted living in the USA has crossed the $4,000 mark. Not to mention the cost of moving into the facility and moving out of your current residence. Many people are avoiding the stress of moving to an assisted living facility by installing Dignity Lifts in their homes. The cost of a lift is less than two weeks rent at a managed care facility.

The Dignity Lift DL1 lifts almost everyone.  The Dignity Lifts Deluxe Toilet lift can lift users up to 300 lbs. and it has 19 1/2 inches of hip room (distance between the handles). It is as wide as most office chairs. The dignity lift raises you 14 inches up from a seated position (measured at the rear of the seat).  That puts you back on your feet safely.  It takes the Dignity Lift approximately 20 seconds to go from bottom to top. This steady pace avoids light-headedness and allows limbs that may have stiffened to loosen up.

Installing a Dignity Lift is easy. Installing our lifts is as simple as removing your current toilet seat and putting the Dignity Lift DL1 in its place. The DL1 is a little heavy, so you want to make sure the installer can lift 50 pounds, but once in place, it is extremely stable and secure. If you want to read the assembly instructions, click here. You can also watch assembly videos here.  If you don't think you are able to install the lift yourself, we offer White Glove Delivery.

The DL1 works no matter where your electric outlet is located. The DL1 doesn't require an outlet nearby. It includes a large battery as well as a charger plug. This allows the lift to be used without being plugged in. It will run for one month (30 days!) without needing to be recharged. If you have an outlet nearby, you can leave the charger plugged all of the time and you'll still have a backup if the power goes out. Whichever method you choose, you'll always have a toilet lift that is ready to help you.
The battery last a long time on each charge. A 280 lb. patient used his lift 210 full cycles on a charge. A 150 lb. patient used hers 300 times before recharging.
The Dignity Lifts DL1 Features Include

The Dignity Lifts DL1 Deluxe Toilet Lift
Ultra High Capacity Battery pack
Battery charger
Commode pan holding rack
Commode pan (with lid)
Adjustable/Removable feet
Expanding fasteners to secure the lift to your toilet
Assembly instructions (assembly requires about 20 minutes.)
300 lbs user capacity.
Next Steps:
Find out if your bathroom will fit a lift using This guide.
Find out if it will work with your toilet? Our lift works with almost all toilets. Check to see here.
Is this the right Dignity Lift for you? Review this flow chart.
Click the Add To Cart Button and place your order.
Installation Information:
Watch the installation video for the Dignity Lifts DL1 Deluxe Toilet Lift here: