Dignity Lifts - Bidet Toilet Lift - WL1 - Will Ship December 12th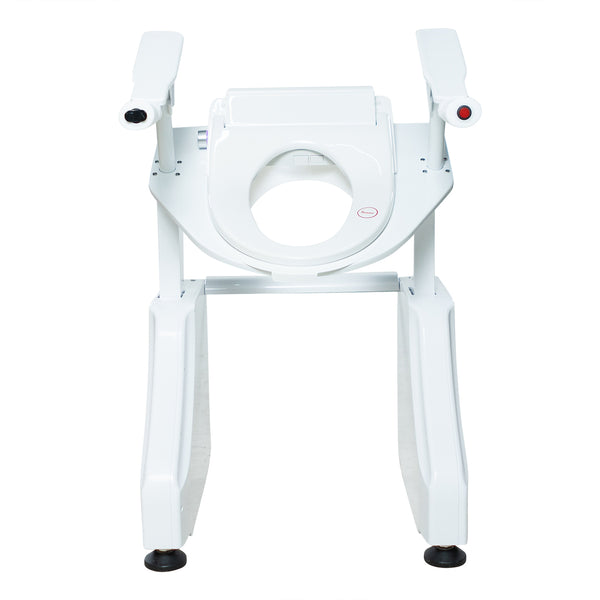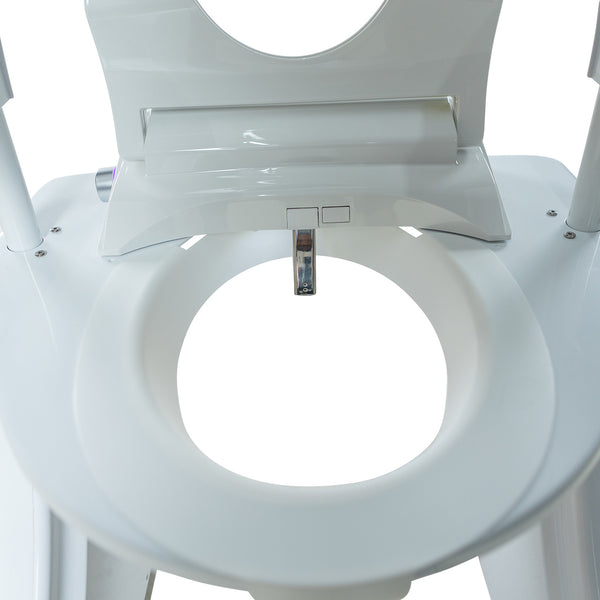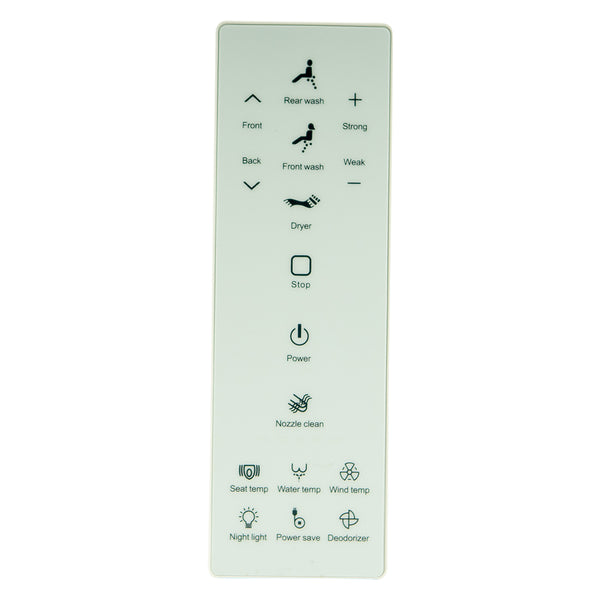 Note Sold Out: Our Bidet Toilet Lift is currently experiencing high demand and we are sold out until December. If you are interested in this lift, we suggest you click the purple "notify me when this is back in stock" button. You will be the first to know when they are available. 
This is the world's most helpful toilet lift. Not only does the Dignity Lifts WL1 help sit you down and stand you up, but it easily handles all of your hygiene needs. With its built in bidet and blow dryer, our Bidet Toilet Lift washes and dries you and then lifts you back to your feet. If you have trouble with standing from a low position, reaching, twisting, and wiping, the WL1 Toilet lift is great for you.
The WL1 toilet lift prevents falls and keeps your from getting stuck in an embarrassing situation. Whether you live in a house or an independent living apartment, a toilet lift is a great way to avoid needing to move to the next level of care. Often, toileting problems force people into assisted living, but with a toilet lift you can toilet yourself and remain living independently.

The WL1 Bidet Toilet Lift has clean styling so it won't ruin the look of your bathroom. It also includes some luxury features to make toileting a more pleasant experience.
Features Include:
Sleek, attractive style
Fully integrated bidet
Easy to use controls for quick simple operation

A multi-function remote control for customizing the functions
Adjustable water temperature

Adjustable pressure
Two different nozzle positions
Adjustable blow dry temperature
Heated seat
Automatic deodorizing function
Pre-programmed settings for women and men

The toilet lift provides a full 14" of lift
4 wide feet make it sturdy and stable
Works with almost all toilet shapes and heights. (more info here)

Fits in most bathrooms (more info here)
Uses your toilet's existing water supply, so plumbing is easy.
Lift controls and a warning alarm are integrated into the handlebars
Requires a nearby electrical outlet
300 lb. capacity
The Dignity Lift WL1 helps you with all of your hygiene needs. Many of our customers have trouble turning, leaning, and wiping after using the toilet. This can cause them to have hygiene issues. The WL1 handles those issues for you. The bidet functions cleanse you, and the blow dry function keeps fungal infections away. The WL1 is designed to meet all of your toileting and hygiene needs. It even has a heated seat for comfort.
Dignity Lifts help you get down to and up from the toilet easily. They give you a slow and steady lift back to the upright position. Dignity lifts allow you stand up for yourself and to continue using the bathroom without the need for a helper. We call them dignity lifts because they allow you to keep your dignity. 
No one wants to get stuck on the toilet, and a dignity lift prevents that. They lift you at a reasonable pace, so even if your legs "fall asleep" on the toilet you'll still be safe. Our lifts take 20 seconds to raise you from the toilet. This is the right amount of time so you can get circulation and feeling back in your legs. 

Everyone wants to be clean. Not being able to conquer your hygiene is undignified, so Dignity Lifts made sure that the WL1 handles everything for you. With the simple turn of a knob the WL1 will cycle through a wash and dry cycle that will leave you clean and dry.
The Dignity Lifts WL1 works with all toilets from the shortest to the tallest, the Dignity Lifts WL1 works with all toilets. It fits bowl heights of 14 inches (early toilets are this low) all the way up to 18 inch bowl heights (tall toilets are this tall). It has adjustable/removable legs to fit any toilet we have ever seen. The bidet is sized to fit into elongated bowl toilets.

The Dignity Lifts WL1 helps prevent constipation in two ways. Raised toilet seats or extra tall toilets can cause constipation. Toilet lifts get you nice and low so your body works better. This helps you avoid constipation and numbness of your limbs. Some people also find relief from constipation by spraying their backside. They find it stimulates a bowel movement.

The Dignity Lift WL1 fits in almost all bathrooms It has a width of 23 7/8" so it will fit in the toilet nook of even the smallest bathrooms. Most building codes require at least a 24" wide toilet nook. Our lift is designed for that.

The Dignity Lift WL1 lifts almost everyone.  The Dignity Lifts Deluxe Toilet lift can lift users up to 300 lbs. and it has 19 1/2 inches of hip room (distance between the handles). It is as wide as most office chairs. The dignity lift raises you 14 inches up from a seated position (measured at the rear of the seat).  That puts you back on your feet safely.  It takes the Dignity Lift approximately 20 seconds to go from bottom to top. This steady pace avoids light headedness and allows limbs that may have stiffened to loosen up.

Installing this bidet toilet lift requires a small amount of plumbing skill. Installing our bidet lift is not difficult but does require a small amount of plumbing skill. If you can install a new faucet, you can install the WL1. The lift "Ts" into the plumbing line that goes to your toilet. So it won't need a new supply line, it uses what is already there. It doesn't need hot water, our Bidet Lift has a hot water heater inside the lift.
For the electrical hookup, our bidet toilet lift needs a three prong plug. The lift includes a Ground Fault Interupt within the 31" long power cord. This cord is approved to be used with an extension cord if you need it. The electrical cord exits the lift at the bottom left hand side.
We suggest you use a handyman for the installation. The WL1 is a little heavy, so you want to make sure the installer can lift 50 pounds, but once in place, it is extremely stable and secure. If you want to read the assembly instructions, click here.

The WL1 Bidet Toilet Lift requires a nearby GFI electrical outlet. The WL1 requires an outlet nearby. The bidet needs enough power to heat the water in the lift. It also uses electricity to operate the lifting mechanism, the blow dryer, and the heated seat. The power cord is 31 inches long and contains an inline GFI, so you can use it with an extension cord, but we do not recommend running an extension cord across the floor of your bathroom. Please follow proper electrical practices and keep all bathroom electrical cords elevated and away from pathways. 

The Dignity Lifts WL1 Contents Include

The Dignity Lifts WL1 Deluxe Toilet Lift
Adjustable/Removable feet
Expanding fasteners to secure the lift to your toilet
A plumbing "tee", water supply line, and inline filter to plumb the bidet
Assembly instructions (assembly requires about 60 minutes and light plumbing knowledge.)
300 lbs user capacity.
Next Steps:
Find out if your bathroom will fit a lift using This guide.
Find out if it will work with your toilet? Our lift works with almost all toilets. Check to see here.
Click the Add To Cart Button and place your order.
Installation Information:
Learn how to install and plumb your Dignity Lifts Bidet Lift WL1. It is much simpler than you imagine. Here is a video: