Dignity Lifts - Commercial Toilet Lift - CL1 - In Stock, Ships Now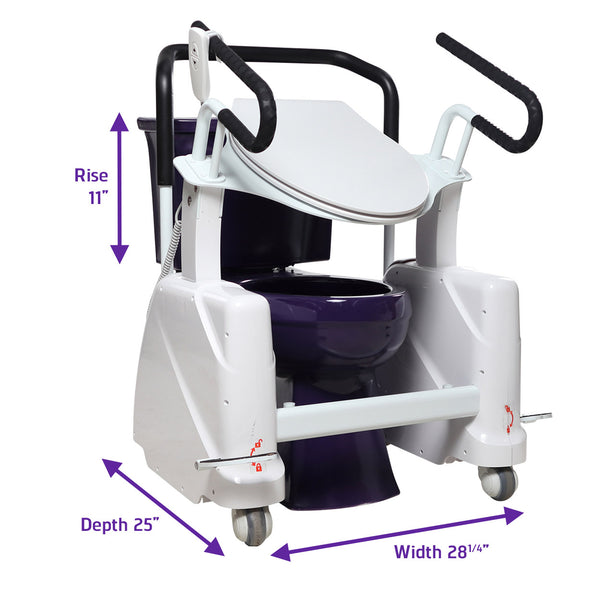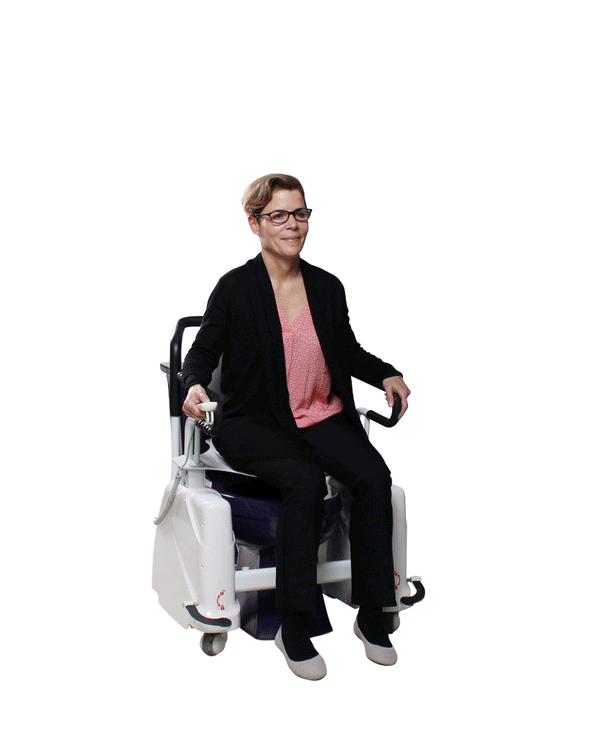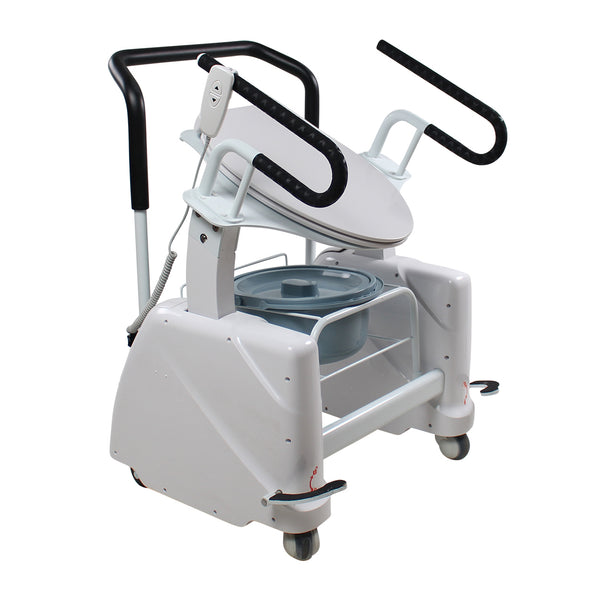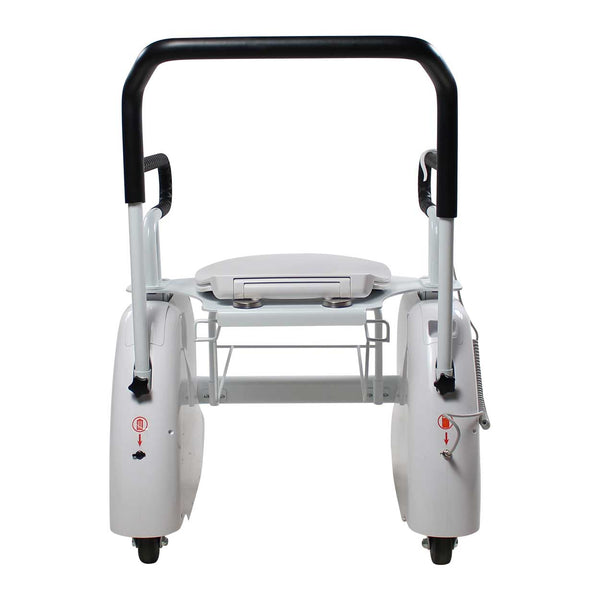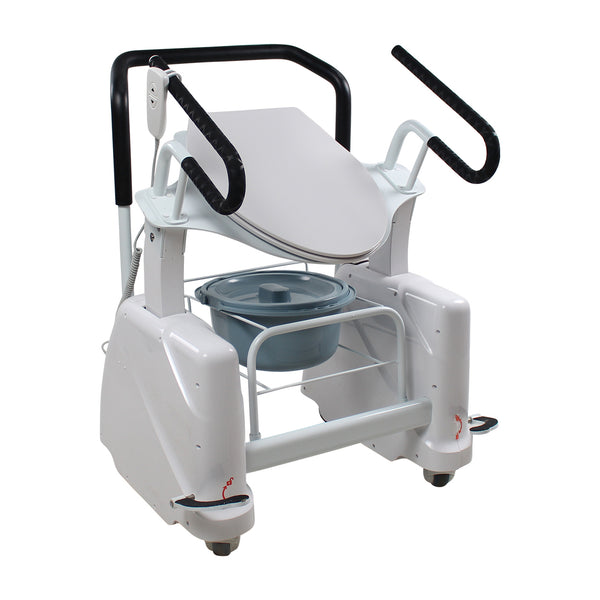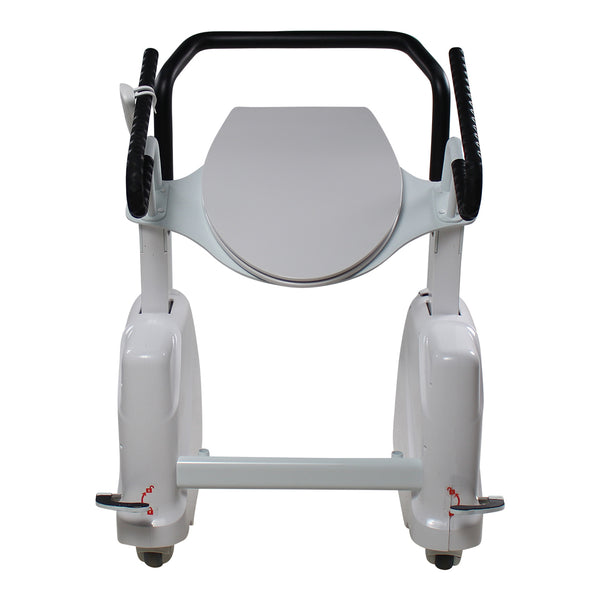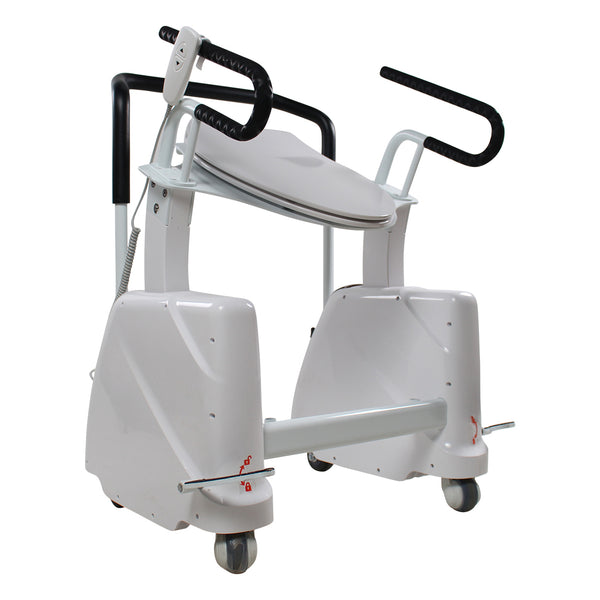 Our Commercial Toilet Lift Model CL1 is designed for use by Assisted Living Facilities, Rehab Locations, Surgery Centers, Skilled Nursing, and other professional care facilities. It is designed to meet their unique requirements. This Commercial lift is designed to allow residents to use the toilet by themselves. It is also designed so that CNAs and Nurses that are on lift restrictions can still help with toileting. After implementing toilet lifts facilities are seeing fewer calls for assistance and happier residents. Even if someone does call for help, this commercial lift will help your employees lower and lift patients at the toilet. This saves time and injuries.

The CL1 has unique features for care facilities and hospitals. It is durable, useful, and its large wheels allow it to be transported easily to different rooms. It works best with the 18" toilets most facilities use to meet ADA compliance. The CL1 does not offer height adjustment like our BL1 and DL1 lifts. Also unlike our other lifts, which are designed to fit in small bathrooms and through small doorways, the CL1 has a wider base. Professional facilities have ADA bathrooms that provide more space and have wider doorways. This allows the CL1 to be a little wider and more stable.
Toileting residents can be dangerous. Toileting and lifting residents can be dangerous for your employees and embarrassing for your residents. Implementing a mobile toilet lift can reduce worker's compensation claims for any adult care facility. Whether you run an independent living facility, assisted living, rehab, or skilled nursing, a toilet lift helps everyone involved by doing the (ahem!) heavy lifting.

Do you have workers on lift restrictions? If you have a worker that is on lift restriction due to injury, they can operate the CL1 Toilet Lift without lifting. It is a great choice for assisted living and long term care environments. Keeping these employees productive is good for everyone's morale. No one likes to work alongside someone on lift restrictions because without a lift, the co-worker ends up doing all of the work. A toilet lift prevents these problems.

The CL1 saves time and money for any care facility that uses it. By allowing more of your residents to use the toilet without help, you can quickly save the investment cost of the CL1. Some estimates indicate that toileting assistance costs a facility $17 per incidence. If the CL1 is used three times per day, you will get a return of the purchase price in one month!
No one wants to get stuck on the toilet, and dignity lifts prevent that. Some patients are almost capable of toileting themselves and would prefer the privacy of using a toilet lift so they can stay independent. Other patients may be troublesome to handle. Their caregiver will appreciate the help of an electric lift.
Finally, some patients won't use the toilet because they don't feel safe. For these people the Dignity Lift means they won't require bedpans or diapers and the bother related to that.
Dignity Lifts - Commercial Toilet Lift - CL1 Features Include:
Lockable wheels to so you can help more people

Wide, stable base
Easy to use wired remote

Provides 11" of lift
Works with all 18" tall toilet bowls

Rechargeable battery allows you easily go from room to room

padded arms and push handle
Large, foot-operated wheel locks
350 lb. capacity
20 1/4" of hip room (approximately the same width as an office chair)
The Commercial Toilet Lift - CL1 is mobile so it can be easily used where it is needed. If a patient wants help, but also wants privacy, you can bring them a lift and leave it for them. Rehab facilities use the CL1 for short stays like hip and knee replacement patients.

Portable Stability - Not only does the CL1 have a wide, stable base, but it has locking wheels. The front wheels lock. Locking them is easy using the foot-operated pedals. With the wheels locked you can leave the Dignity Lifts CL1 in place over a toilet. When you want to move the lift, unlock the wheels and move the toilet lift to another room.

Using Dignity Lifts is easy. The CL1 has a rechargeable battery and can lift 30 patients on a charge. When it isn't in use, plug it in and charge it up. The CL1 is specifically designed to work hard. It is our commercial lift and can handle the needs of more than one person.

This lift is not well suited for home use, it is best for use in facilities. It is too wide for many home bathrooms and it only works with 18" toilets. Our Deluxe Toilet Lift DL1 is the best choice for home bathrooms. This commercial lift is designed for care facilities, nursing homes, and hospitals which have roomier, ADA compliant restrooms and standardized 18" toilet heights. 
The CL1 is typically used over the toilet. All of our toilet lifts are meant be stationary when used. First, place the lift over the toilet and then put it to use. Although the CL1 rolls, it should not be used for patient transport. Doing so can endanger your patient. Please position the lift first and then put the patient on it.
The CL1 comes with a commode bucket so it can be used bedside as well. Removing and installing the commode bucket and rack can be accomplished without the need for tools.
Next Steps:
Find out if your bathroom will fit a lift using This guide.
Find out if it will work with your toilet? Our lift works with almost all toilets. Check to see here.
Is this the right Dignity Lift for you? Review this flow chart.
Click the Add To Cart Button and place your order.
Installation Information:
For more information about the installation of the Dignity Lifts CL1 Commercial Lift, watch this video. We also offer White Glove Delivery if you need it.