Dignity Lifts - Helper Lift - HL1 - Sold Out. Back In Stock December 14th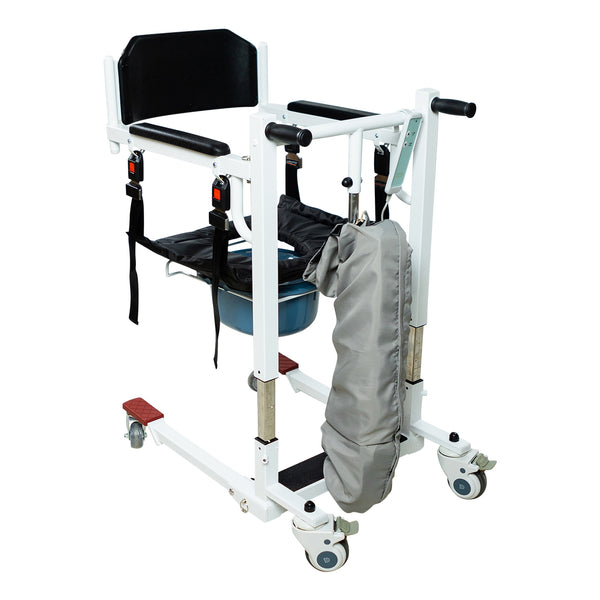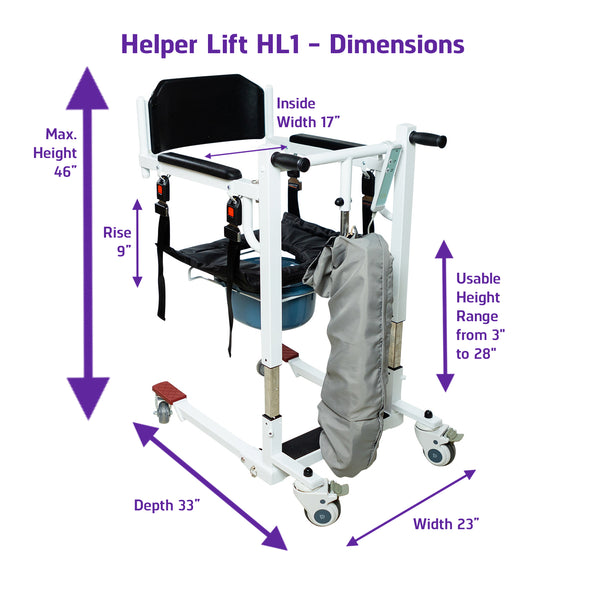 The Dignity Lifts Helper Lift HL1 is an alternative to a Hoyer Lift for BMAT Level 2 Patients. The Helper Lift HL1 helps caregivers lift and transport someone from any seated place to another seated place. It is a slimmer, more modern alternative to a Hoyer Lift. Hoyer Lifts are essential for BMAT Level 1 patients but the Helper Lift is better for BMAT Level 2 Patients. The HL1 is great for transferring residents that can sit upright on their own, but cannot move well. The Helper Lift can transport them to different locations in their home. It can pick up and place people from the following locations.

It can pick someone up and place them to a seated position on the bedside
Down to and up from the toilet
Up and down from a couch or chair
Up to a dining room table or up from and down to a dining chair

If they have a zero entry shower, it can be used to place them on a separate shower chair.
The most popular use is transfer someone to and from a wheelchair
This Helper Lift helps residents move from place to place inside their home without the awkwardness of a Hoyer Lift. The HL1 Helper lift is only 23" wide, so it fits easily through most doorways. Since the seat of the lift is located inside it's sides, the HL1 is easy to maneuver around a home or apartment.

The HL1 Helper Lift uses a "helper-sling" beneath the resident. This washable sling is comfortable and easy to use for patients that can sit upright on their own. The sling clips with seatbelt style clips, then a seatback is slid into place, and then the resident can be lifted by the lift. The HL1 lifts electrically with its rechargeable battery. The HL1 Helper Lift turns a two person transfer into a single person, non-lifting operation.

How is the helper lift generally used? A typical day using the helper lift might include:
Transferring the resident from seated on their bedside to a lower position in the bathroom for toileting
Transporting and lifting them from the bathroom to a dining area so they may sit and eat.
Some people choose to stay in the HL1 while eating as it sits them upright and be rolled up to the table.
Transferring them from their dining chair and lowering them to the couch or to a recliner
Transferring and lifting them back to the dining area for dinner
If using a walk in shower, they can be transferred to a shower chair
Transferring and lowering them to the toilet as needed throughout the day

Transferring and lifting them back to their bed at the end of the day

All of these transfers can be done without the worker bearing the weight of the resident. The electric lift handles all of the up and down motion, and once the helper-sling is placed under the resident, they can be easily moved anywhere. Finally, the large, lockable casters and handles allow you to transport the resident easily.
The HL1 has unique features that make it useful It has a design that allows you to pick up and place residents on any seating surface. It's arms and removable seat back allow you to approach the resident from the front, and then secure them to the lifting arms. The seat back keeps the secure in the lift. The foot pad gives them a place for their feet. The actuator can then lift and lower them as needed. The HL1 is a great way to transport a patient, loved one, or resident.
Hoyer Lifts Are Inconvenient. Compared to a Hoyer Lift, the Helper Lift is more compact, more maneuverable, quicker to set up, uses only 1 operator vs. 2, and for many people who can sit upright on their own, more comfortable. Hoyer lifts are essential for BMAT Level 1 patients, but for BMAT level 2 patients the Dignity Lifts Helper Lift is a much better alternative.

Sit To Stand Lifts Don't Work For Many People. If a patient can stand, a sit-to-stand lift is great for a sit-to-stand transfer. But not all people can stand. Some people have enough trunk control to sit upright on their own, but cannot stand at all. For these users, the Dignity Lifts Helper Lifts HL1 is the right piece of equipment.

Lifting Residents can be dangerous. Use a lift. Toileting and lifting residents can be dangerous for your employees and embarrassing for your residents. Implementing a mobile toilet lift can reduce worker's compensation claims for any adult care facility. Whether you run an independent living facility, assisted living, rehab, home care operation, or skilled nursing, a toilet lift helps everyone involved by doing the (ahem!) heavy lifting.

Even workers on lift restrictions can operate a Helper Lift alone. If you have a worker that is on lift restriction due to injury, they can operate the HL1 Toilet Lift without lifting. It is a great choice for assisted living and long term care environments. Keeping these employees productive is good for everyone's morale. No one likes to work alongside someone on lift restrictions because without a lift, the co-worker ends up doing all of the work. A toilet lift prevents these problems.

The HL1 Gives Your Resident More Variety and Saves Caregivers Time and Money. A helper lift allows your residents to move around more easily, giving them more variety, and improving their life. Help Lifts = happier residents.

No one wants to stay stationary. No one wants to get stuck on the toilet, and dignity lifts prevent that. Dignity Lifts is in the business of helping people go to the bathroom with ease. The Helper Lift continues our work and not only helps people use the toilet safely and easily, it helps them go other places as well.

Dignity Lifts - Helper Lift - HL1 Features Include:
Lockable wheels to so you can help more people

Wide, stable base
Easy to use wired remote

Two washable lifting "mini-slings" for under your resident (a spare is provided to allow cleaning)

A removable seat back, that keeps people securely on the lift.
Easy to lock sling buckles to secure the sling to the lifting arms

Rechargeable battery allows you easily go from room to room

Padded arm rests and push handles
A wide foot pad for residents to rest their legs
A removable commode rack and bucket (most users roll the lift to a toilet, but a commode bucket is handy as well)
A washable actuator cover, protects the working mechanism from spills
Large, foot-operated wheel locks
250 lb. capacity (please note the hip width)

17" of hip room (It is a little narrower than an office chair so that it can fit through a bathroom doorway)
Provides up to 9 1/2" of lift.
The Helper Lift - HL1 is the best choice for patients that can sit up unassisted. If your patient can sit up unassisted (BMAT level 2) then a single person can lift them with the Helper Lifts HL1. 

Portable Stability - Not only does the HL1 have a wide, stable base, but it positions the patient low and inside the frame. This allows it to be much more stable than a hoyer lift. Users often are surprised at how much more stable it feels.
The HL1 provides a secure base. The front wheels lock using foot-operated pedals so you can keep your patient steady. With the wheels locked you can leave the Dignity Lifts HL1 in place over a toilet or at the table for a meal. When you want to move the lift, unlock the wheels and move the Helper Lift to another room.

This lift is meant to be used on smooth surfaces.
It is not meant for uneven surfaces, changes in elevation, nor outdoor use. Our Helper Lift is meant only for moving someone over a smooth level surface. It is not compatible with steps, stairs, rough surfaces, outdoor use. It is not meant for uneven tile surfaces and can be dangerous to use over uneven door sills. Caution is required when transporting residents onto and off of elevators due to the gap in the floor. The Helper Lift should never be used near stairs or escalators. It is not advised to use the helper lift on wheelchair ramps as the device does not have brakes that can be easily deployed in a runaway situation. The Helper Lift is designed for level areas such as inside an Assisted Living or Independent Living apartment or an area of a home that is barrier and step free.

The HL1 is often used over the toilet. Dignity Lifts specializes in toilet lifts and the HL1 is perfect for this use. It also does so much more.

Measurements:

Does It Fit Through Doors? The HL1 is 23" wide at its widest point (the rear wheels) so it fits easily through residential doors. The Helper Lifts is 31" long (front to back at its longest points) so it can be maneuvered into most bathrooms.

How High / Low Does It Go? The HL1 can lift a person 9 1/2" from wherever they start. The height of the sling is adjustable. So it can pick people up at many different heights. The tallest seat it could reasonably be adjusted to lift a person to is approximately 28" and the lowest it could be adjusted to pick someone up from is approximately 3" from the floor. (Here are the heights of many common things: Bed: 25", office chair: 20", dining chair: 18"-23", couch seat: 17"-19")

How Big Of A Person Can It Lift? The Helper Lift HL1 is fairly small so that it fits into bathroom doors. It was also developed outside the United States where people are not as large. For female users we suggest the Helper Lift for women who are dress size 16 (X-Large) or bust size 42" or less. For male users, we suggest the Helper Lift for men who are chest size 44, shirt size Large or less.
The area inside the arms of the lift is where the person is contained. That area is: 17 1/2" wide by 24" long. To fit in the lift, the person's torso, when measured across the chest should be narrower than 17 1/2" wide. Their hips can be wider than that, but the arms of the lift must fit under the patient's arms.
How Tall Is It? When lowered to its lowest position the entire lift is 36 1/2" tall (measured from the floor to the top of the seatback, the highest point). When raised to its tallest position it is 46 1/2" tall (measured the same way)
Owner's Manual - Feel free to download the HL1 Helper Lift's owner's manual by clicking here.